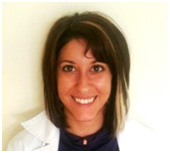 EINUMM Secretary
Dietitian, Graduate of the Universita' degli Studi di Milano.
She has occupied with insulin resistance, a fundamental metabolic disorder that for the most of the population is the cause of health problems such as obesity, high cholesterol, high blood pressure and diabetes.
She worked two years at the Department of Clinical Nutrition at the University Hospital of Milan, San Carlo Borromeo.
Since 2007 she works closely with Dr. Tsoukalas enjoying full confidence in the implementation of nutritional protocols developed during their collaboration. Dr. Charta has successfully handled thousands of cases and has extensive experience in the application of modern Nutritional Medicine.